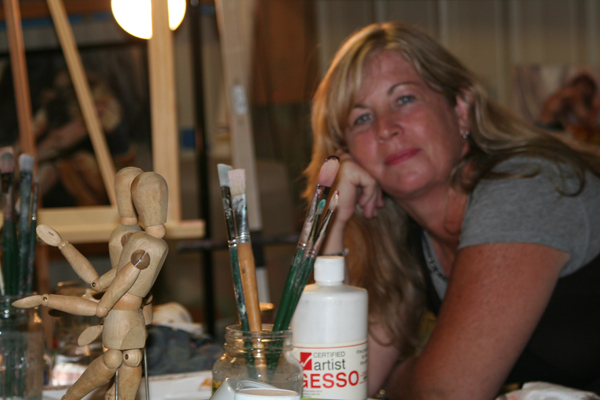 About Me:
Fran Siebe was born Frances McAndrews, in Staten Island, New York. Since her pre-school days
she has been fascinated with anything art-related. She began painting at the age of ten,
shortly after her mother had passed. While growing up in New York, she was introduced to museums and art schools throughout Manhattan. She earned an A.A.S. degree at The New York School of Interior Design before attending Pratt Institute where she studied Illustration and The Art Student's League where she studied Portrait Painting. Siebe worked as a freelance artist in New York before moving to Florida in 1994. She worked as a graphic artist and designer for 10 years before deciding to pursue her B.F.A. degree. She graduated Summa Cum Laude from UNF with a B.F.A. in Painting/Drawing and a minor in education.
Fran Siebe currently owns and operates an Art Studio, Artistic Refuge, where she paints and teaches. Her studio hosts events and workshops every year from June through September where she introduces children ages 5 and up to the world of art. With her education background and over 20 years of experience in art and design, her vision is to share what she has learned
and open the world of art and design to all ages.
"Whether you are young or old – there is something very magical about the energy
that is generated in a creative setting. Everyone can escape and tap into their imaginative side
while leaving their daily dose of stress outside the door. I escaped to an art studio as a child
to find peace and self-confidence … and now I am open for anyone who wants to join me to do the same."
About My Work:
My style has evolved over the years, but always remains true to the disciplines that I have been taught.
I have a strong belief in studying the masters, the principles of art and design, and the history of art.
I believe that you should not break the rules of design until you first understand them.
Drawing and painting isn't so much about what you can do, it's more about what you know
and what you see. My technique is to work fast and spontaneous which forces my confidence.
Applying quick strokes of color results in an impressionistic style but with a psychological approach
similar to the Action Painters – creating art that inspires emotion just by a simple gesture.
I am also inspired by painters like John Singer Sargent who can capture light and realism
with simple, energetic brush strokes. This is the approach I take, even when painting portraits.
The result is more of a gestural style painting than trying to capture photographic realism.
Click here to view gallery of my work